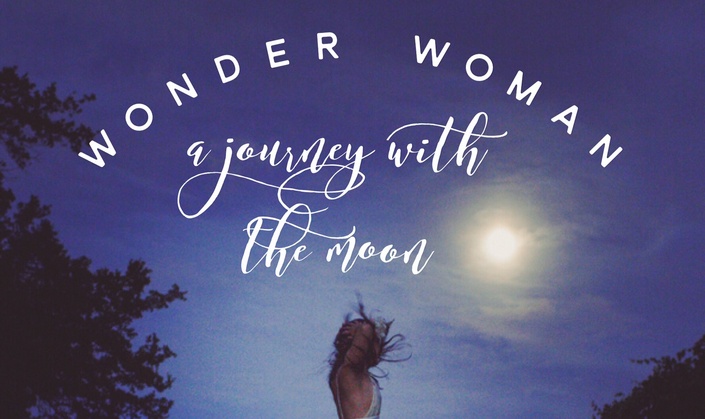 Wonder Woman
Create the life you crave.
Wonder Woman explores connecting with the Moon and Moon Phases as tools for guidance and learning more about yourself and your emotional and physical patterns. The course consists of 4 parts: Waxing, Waning, New and Full. It is a self-paced course that you can move through at your own speed.

"

What are you willing to release that's not serving you at all? Do you have limiting ideas about the Full Moon that actually don't really work for you? This is the perfect time to allow yourself to ditch those beliefs and create new ones of your own. I tend to be the kind of person who could eat the same thing every day for months. When I enjoy something, I want to do it every week (this can drive my family crazy). My nature wants things that I can count on—I like those structures. In maturing and finding personal freedom I am letting go of rigidity and opening up to the flow."
This course includes a guided meditation from Carrie-Anne Moss, written and creative prompts as well as yogic prompts for the body and spirit. There is also a downloadable audio visualization and a printable meditation guide.
**Please keep in mind that this course was originally published as part of an ongoing series. It may reference time specific elements, such as particular moon cycles, previous course work, etc. We have done what we can to make the course "timeless", but we wanted to be sure to keep as much of the nourishing content as possible.**

Have questions or need some guidance? Email us! Our team is always here to support you at [email protected].

Your Instructor
Mother and wife above all else, Carrie-Anne Moss is an actress, teacher, seeker, and storyteller. Her deep calling to connect with women led her to create her website, Annapurna Living, as a platform and portal for growth and nourishment. Now, with a community of women all over the world, Carrie-Anne teaches online courses designed to help women and mothers find their voice and to step into their grace.
What women are saying about our courses ...

"In my mornings and in my life, with my lover and our two young children, I am now able to focus more on the moon and the themes of Carrie-Anne's Courses. They touch and carry me. I have developed a deeper connection with my body and my stories, and I have been able to get in touch with my heart and feelings and the rhythm of the year. I am so deeply grateful." (M.N.)
"I already had a regular meditation practice before I started this course, but joining Carrie-Anne's program has upgraded my meditation practice from being a chore and a discipline to something juicy, joyful and just all-around delicious. I feel more in-tune, more feminine and I love meditating with a guided practice. And I'm really looking forward to meditating every day." (M.W.)
"Before last month, I had never meditated in my life. Today, I'm sleeping better than ever (after decades of insomnia), having amazing dreams (set with new landscapes, treating new themes) and am managing work-related stress in positive ways. So many gifts. Thank you for bringing your wisdom, heart and generosity to this experience. I feel so fortunate to be a part of it." (J.S.)